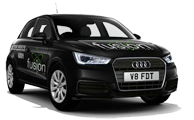 Terms & Conditions
Booking Conditions

In this document, "We" and Us" and "The / Your Instructor" refer to all instructors working for Fusion Driving Tuition.
"Our" refers to Fusion's property, terms, students, instructors, or other assets or resources, identifiable by context.
"You", "Your" and "The Learner" refer to any student driver making bookings with Us.

All bookings, howsoever made, are bound by the following conditions.

1. All bookings made with Us are final. Refunds will only be considered when requested as a result of failure by Us to supply products or services to You, and only where such failure was reasonably avoidable.

2. By making a booking with Us, You confirm that You are fit to drive and that You hold a valid provisional driving licence at the time You take Your lessons. You also agree that You will inform Us if You cease to remain fit to drive before, or during, any given lesson that You take with Us. Where this condition is not met, Our instructors reserve the right to refuse to teach that lesson.
Any agreed fee paid or payable for such lessons will remain so, in full.

3. You may cancel any lesson at any time, by contacting Your driving instructor, according to the lesson cancellation policy.

4. Lessons cancelled by Us for any reason are refundable. Instructors may offer an alternative lesson date instead of a refund. All Fusion Driving Tuition driving instructors are self employed franchisees, and therefore, all bookings made are between The Instructor and The Learner.

5. Unless You expressly advise Us not to, We will assume that We may contact You by telephone, email or SMS, in the course of our business.




Lesson Cancellation Policy

1. You must provide Your Instructor with no less than 24 hours notice if You wish to cancel or re-arrange any pre-booked lesson, otherwise You will be liable to pay the full fee for that lesson. Fees for missed lessons are payable at the end of the next lesson, or will be deducted from the pre-paid fee (in cases where a block booking has been made).
If a lesson is cancelled with at least 24 hours notice, no charge will be made for that lesson.

2. In the event of mechanical breakdown or any other difficulty out of Your Instructor's control, Your Instructor reserves the right to re-arrange lessons at short notice.




Legal Liability

1. You should be aware that Your Instructor's primary objective is to promote road safety, and in doing so, Your Instructor may take control of the vehicle without notice, in order to avoid a potentially dangerous situation. Instructors will make every effort to instruct You to the highest standard, but cannot be held liable for any errors that You may make whilst driving without the company of Your Instructor, either before or after a test pass.

2. Driving tests may only be arranged with the prior agreement of both, The Instructor and The Learner, and The Instructor reserves the right to withhold the use of his/her vehicle for any driving test.

What People Say
"Amazing instructor! Helped me so much! Made me feel confident in driving! Highly recommended x"
- Kat F
See all recent feedback