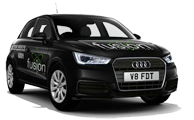 Franchise Opportunities
Driving Instructor Franchise
Due to high customer demand, we are looking for enthusiastic new instructors to join our team!
Are you an ADI thinking of joining a driving school franchise? Then Fusion could be for you.
Being a driving instructor can be a lonely job at times, but working with Fusion Driving Tuition,
you'll have all the flexibility you want, with the benefits that being part of a larger organisation provides.
Brand Franchise
This is the cheapest and probably the best way to run your business.
This would suit instructors that already lease, own, or are ready to buy, their own vehicle.
This option includes:
• Livery, supplied and fitted each time you replace your vehicle, (normally around 24 months)
• Advertising and marketing, including promotions and area targeting
• Managed Facebook page
• Access to branded embroidered workwear at cost price
• Unlimited business cards
• Unlimited progress records
• Unlimited gift vouchers
• Unlimited pupil allocation
• No pupil allocation fees
• No admin fees
Alongside this, we will have regular meetings to make sure your business is as successful as possible.
Help is also available for pupil mock testing and assistance if needed with vehicle issues, DBS checks,
instructor badge renewal and dealing with tricky customers.
This costs £250 pcm (£57.69 per week). At the current customer rates,
this cost will take only approx one-and-a-half hours per week to cover.
The only requirement is that the vehicle is suitable for teaching in.
Join Fusion Driving Tuition and be part of our fast growing business. If you are an ADI or PDI and interested in an exciting opportunity,
click here
or give us a call on 07500 909 319 to arrange an informal chat over a coffee.
We look forward to meeting you.
What People Say
"Otto is a brilliant instructor, he has a calm reassuring manner and knows how to steer you in the best direction with regards your learning."
- Leon B
See all recent feedback